Travelling somewhere warm, hot or humid? There is nothing like cotton to keep you cool in the heat
Cotton a lovely fabric choice as it breathes and is light to wear. Cotton voile the lightest cotton is the coolest with a more open weave allowing air movement from your skin through the fabric.
Weightless and light to pack Cotton pieces allow you more room in your suitcase and outfit options for your holiday. You will find with good quality, softened cottons once on hangers many creases will fall out and only a light iron should be necessary.
A sarong your Summer pashmina!
Poolside or out and about a
sarong
is such a useful accessory.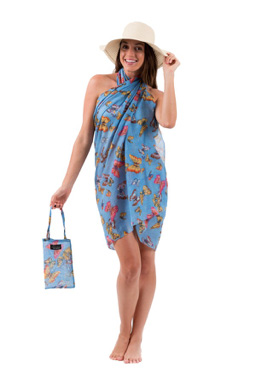 A wrap for the beach…a cover up to and from. In beautiful soft cotton voile it will protect you from the sun and will double as a colourful scarf or shawl. Forgot your towel? A sarong will do the job.
Spirituelle Cotton Beach Sarongs have a matching carry bag ... perfect for the beach and so handy for keys, sunscreen etc.
Cotton Slips
For all those beautiful sheer Kaftans, dresses and tunics in need of a slip… Spirituelle cotton dress slips provide a great cool underlayer.
Made from Cotton voile they are so light you will barely know you are wearing one but at the same time solving any sheerness, 'see-through' problems with garments. By adding a slip your beach or pool coverup and kaftan will become so much more!
Many feel that some fabrics cling to cotton, I have found adding a soft voile slip 'moves' as one with the top layer without riding up or sticking. So even with 2 layers you will feel cool and comfortable in the heat. They can be worn under all fabrics cotton, viscose or silk and for those of us that feel the heat they can also be worn as a nightie or a 'slip-dress' on a warm Summer's night for some cool cotton comfort!
Resort Pants
When it is too hot for fitting pants or jeans 100% Cotton Crinkle Gauze pants will provide relaxed comfort. Perfect for those holiday destinations where a little more coverage is required teaming well with casual holiday tops tunics and kaftans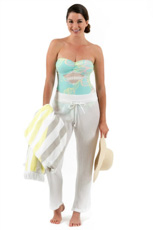 Great to pull on poolside or for a day out cruising for sun protection.
Cool relaxed and easy to wear.
Tunics & Kaftans
Easy to wear relaxed comfortable styles
Available in many beautiful colours and prints they will take you many places as a dress or layered with pants. Wear as a coverup at the beach or poolside… layer with a
Cotton slip and your Kaftan or Tunic will take you out for a casual lunch or dinner.