STYLE AND SIZING GUIDE

WE HAVE SIZE CHARTS FOR ALL GARMENTS. YOU WILL FIND THE SIZE CHART TAB UNDER PRODUCT IMAGES.
All size charts are for the garments with just one exception our micro fibre Slips Adelle and Marielle. This is because of the soft stretch and the size charts are calculated for body size.
The size charts are different for each style but consistent with sizing. Some styles are more free-fitting than others so depending on how you like to wear your clothes it is always good to check the chart.
HELPFUL TIPS
*It is good to consider the underwear that you will be wearing with the garment as this can vary the measurements. For example a push up bra versus a minimizing bra will give you different bust measurements.
BUST
When measuring run the tape measure around the fullest part of the bust making sure that it is sitting straight across your back.
HIP
Take this measurement at the widest point which may be your lower hip, bottom or top of thighs.
As Australian and International Sizing standards are quite varied it is always recommended that our customers check the charts and if they have a tape measure at hand then to cross check measurements. If this is not possible we are always happy to help.
Please call Jules on 1300 881 278 or Contact Us
NEED A TAPE MEASURE?
What Body Shape are you?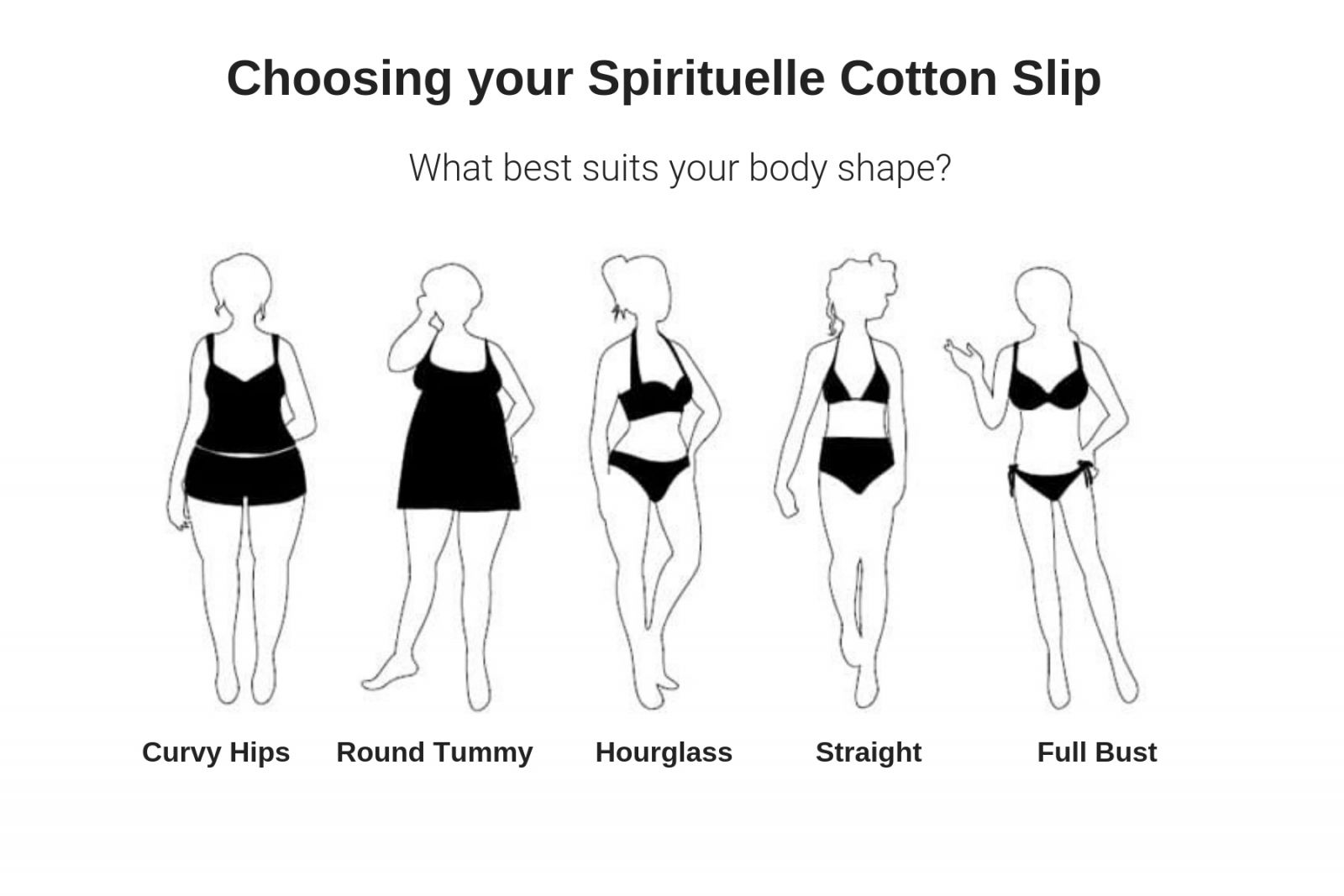 CURVY HIPS
Are you smaller around the bust and more generous in size around hips and bottom? Our A-line slips will suit you.
ROUND TUMMY
Do you like a little more comfort around the middle? An A-line style allows a bit more room to move!
HOUR GLASS
Is your bust and hip measurement quite the same with a smaller waist?
STRAIGHT
Are your measurements quite similar from your bust through to your hips?
FULL BUST
If you have a generous bust then these styles will work for you!
* A tip if you like the CELINE range of Slips each of the 3 styles camisoles, above the knee slip and long Slip are all the same measurements just different lengths.